The Dorsz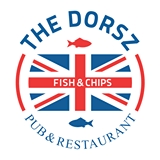 https://www.facebook.com/dorszfishandchips
In England fish and chip shops are almost as prevalent as 24-hour off-licences are in Poland. So, if you want a portion of fish and chips you normally have to settle for some soggy, bread-crumbed piece of fish and some slender french fries. Now, in Kraków at least, there are two pla(i)ces where you can get your fix.
(scroll to the bottom of the page for the review of the restaurant menu)
Before visiting The Dorsz (located on Sw. Anny, right off the main market square) my last intake of fish and chips was back in England a mere four weeks previous. My dinner companion (having had her last fish and chip supper a year ago) was a little more excited at the prospect of sinking her teeth into some succulent cod swaddled in crispy batter.
Upstairs, the interior of the restaurant is very pleasant indeed, with a London Underground theme going on (hardly original, but nicely executed). The back of the restaurant is dominated by a huge frying range (specially imported from the UK). A large blackboard serves as a menu.
Unfortunately the basement area of the restaurant was still "under construction". The manageress kindly gave us a tour. There is a huge projector screen at one end of the room and a bar at the other end. When it's finished downstairs will feature waitress service and various live and televised entertainment.
There were a few minor niggles. For example, there were 3 waitresses at the serving counter, but none of them spoke much English, which seems a little strange for a restaurant which supposedly caters for homesick expats and non-adventurous tourists. Having said that, the menu (ie blackboard on the wall) is written in both Polish and English. Fried Mars bars were on the menu, but as yet I haven't tried this most unhealthy of treats. Mushy peas and curry sauce are available, but baked beans aren't (much to my friend's disappointment).
The toilet features a mirror ball positioned strategically positioned directly above the "user". I was unable to enjoy its full splendour as the toilet light wasn't working and there was no obvious light switch. Next time, hopefully, it'll work and they'll have the lock on the door fixed too.
"What about the food?" I hear you ask. We were not disappointed. The batter was crispy and the cod was indeed succulent. Chips were of the firm rather than the soggy variety, but real malt vinegar and Heinz Ketchup was on offer to soften them up a bit. Portion sizes were generous and prices very reasonable. I look forward to returning soon and checking out the rest of the food and drinks menus.
When I first visited The Dorsz the downstairs bar and restaurant area was still "under construction". Not only was it finished some while ago, but now the menu has been extended to cater for those who don't like (or have got tired of, if that's possible) of succulent fish in crispy batter. I opted for chicken adorned with plum and wrapped in bacon, served on a bed of herby cous cous, accompanied by a salad. The chicken (shaped into three cylindrical sausage-like form) tasted a little dry at the first bite (I should have dipped it into the rather thick sauce to moisten things up a little), but the bacon-wrapped portion of it was truly scrumptious. My dinner companion chose to have the peppered steak and she was more than satisfied with her meal. She asked for medium rare and that's exactly what she got (apparently something she had never encountered before in Poland), served with a stack of thick wedge-shaped chips. The pepper sauce was delicious (I can attest to that as I sampled it for myself).
The range of desserts has been expanded too. Previously only Mars and Snickers bars deep-fried in batter were on the menu. Now there is a range of classic British desserts including that 1970's classic the English Trifle. Apple crumble has always been a favourite of mine and The Dorsz's take on it proved to be excellent (on a par with Dynia's offering). I'll be back soon to try out the other new offerings on the menu. Rumour has it that soon full English breakfasts will be available in the near future. This does not bode well for my diet :)
Ok, I admit it, I just can't stay away from this place. On this occasion I had good reason to visit. Not only did I have no food in the cupboard or refrigerator at home, but I was there to interview Japanese photographer Tetsuya Kusu who had spontaneously turned up in Kraków with the aim of exhibiting his photographic works.
I opted for fried cod on a bed of carrots, served with a mustard sauce and parsnip mash. Tetsuya (a strict vegetarian) initially struggled to find a vegetarian option. The nearest thing we could find to salad was surówki (grated vegetables). Not quite a salad, but a tasty enough and relatively filling option if you're a vegetarian.
Our food soon arrived. Mine was very tasty. Tetsuya tucked into his three mounds of grated veg before deciding that some cheesy chips might provide a few more calories, and jolly nice they looked too. Cheesy chips is something I haven't had for a long time, but in the interests of my ever-expanding waistline it's probably for the best.
The interview went well and I was busily typing notes into my notebook computer trying to remember what my interviewee had told me earlier. My dessert was a very nice lemon tart, served with a dollop of cream and a sprig of mint.
With the interview concluded I took a few photos of Tetsuya with his photos. Then it was time to bid him farewell, whereupon he presented me with a traditional Japanese scarf (which apparently I can wear around my head in the style of the Karate Kid). With a handshake and a bow I made my excuses and headed for the door, my story captured and with some decent food in my stomach.
Comment made by
Marilyn Jennings
on 22/5/2014 at 7:53:PM
Looks and sounds a lovely restaurant with plenty of choice. Well written blog with good photo's. I especially like sound of the good choice desserts - Apple crumble being one of my favourites.
Comment made by
Beautiful Kraków
on 23/5/2014 at 6:50:AM
Thanks for your kind comments Marilyn. The crumble was indeed excellent. The presentation of the food at this restaurant is very nice. The lighting is great for taking photos too.
Comment made by
Iain
on 8/6/2014 at 1:41:PM
As much as this review is of The Dorsz, did your Japanese friend have an opportunity to sample some Polish food while he was here. It would be interesting to hear the opinion of someone who comes from a place with a very seafood based diet to the Meat (specifically Pork) based Polish cuisine. Especially as a vegetarian he must have struggled a bit. He should have had some nice wild Polish mushrooms...
Comment made by
Beautiful Kraków
on 9/6/2014 at 6:51:AM
I think the only other thing he tried was pierogi.
Comment made by
VideoPortal
on 2/4/2017 at 2:14:PM
These are the kind of places that have fed generations of Britons since long before anyone had ever heard of hamburgers, and continue to do so today. The Dorsz will be a little more ambitious than that.