Dynia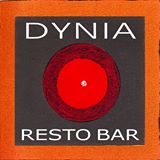 https://www.facebook.com/pages/Dynia-Resto-Bar/109706449090228
There are a few things I always make sure I get my fill of whenever I go back to merry England. Fish and chips, cider and full English breakfasts.
Fish and chips are now readily available to me now thanks to The Dorsz. Cider is becoming more and more readily available (in shops at least). My dream of draught cider in every bar will probably not be realised for some while yet. And what of the full English breakfast? Sure it may not be the healthy option (coming in at anywhere between 800 and 1600 calories, with lashings of artery-clogging goodness). But sometimes a man just has to have a full English (we're talking about when hungover or staying in a bed and breakfast where the breakfast is included in the bill.)
I recently had the opportunity to sample Dynia's Zestaw Angielski, which is their take on the full English. And rather good it was too. Sure there were a few omissions. The baked beans were a little plumper than the Heinz variety. Hash brown's would have been a welcome addition. Instead of toast (or fried bread even) the meal was served with a little basket of bread.. Half the bread was white, a generous portion of butter was provided, so full marks there. The rest of the bread, however, was a little odd for my tastes. Normally I would associate caraway seeds with my childhood and my mother's homemade cakes. In bread? Well, it's just not right. (I had to several pieces of bread before deciding this).
The solitary sausage was tasty enough (probably due to its inherent garlickyness) . But, talking frankly, sausages should be the size and girth of a certain unspeakable male appendage rather than one's little finger like this one was. The bacon, too, was tasty, but lacking in substance. Presentation of the meal was good too.
Another great British treat I've had the pleasure to try is crumble. Apple crumble and raspberry crumble to be precise. These crumbles were quite simply the best desserts I've ever had in my life. They were served up with a super-tasty creamy vanilla sauce. The little pots of sauce arrive ten or so minutes before the desserts proper. My dinner companion kept having little spoonfuls of the sauce until there was no more (I on the other hand showed complete and total self control). When the waitress arrived with our desserts my dinner companion cheekily asked for another little pot of sauce as hers had strangely "evaporated". Whether I prefer apple crumble over the raspberry variety has yet to be established.
I've eaten a few times at Dynia and no doubt will continue to do so. The food is top-notch and so is the service.