Yellow Dog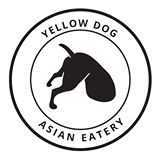 https://www.facebook.com/restauracja.Yellow.Dog
You either have to be very brave or very foolhardy to include the word dog when naming an Asian restaurant. Luckily this restaurant came highly recommended, so I was quite keen to take the dog for a spin.
I must have passed this restaurant (on Krupnicza street, not far from the equally highly-recommended Pod Norenami) a dozen or more times. Finally, after a half day's photo shoot around Nowa Huta I finally got to visit it. Braving near-zero temperatures while wandering round the communist new town in search of the Defence Museum and its attendant tank had given us both (me and my model) quite an appetite.
Visually Yellow Dog is a pleasant enough place inside. It loses a few points for have a clothes rail for hanging up your coats right next to the restaurant's entrance. Strangely, the toilet door is unlabelled; a little too minimalist for my liking. It was just a little too bright in there for me too. The waitress warned me that the credit card terminal wasn't working, which was only a minor annoyance. On the plus side, they do have one of my favourite Oscar Wilde quotes adorning the wall.
We parked ourselves down by the window and began the non-odious task of reviewing the one hundred and fifty or so photos that I'd taken earlier in the day. Choosing the food was a little problematic for me. There was no dog option on the menu fortunately (unless it was hidden away in the noodle section which I avoided in favour of the rice and roti options). The rice-based section of the menu only had only half a dozen choices and a few of those were composed of cheeks (something I'm not quite adventurous enough to try). My dinner companion chose chicken tikka masala and I opted for the fish curry.
Our drinks (cider) soon arrived and the food not long after. The quantity of the food was ample and the quality was fantastic. I can honestly say it's the best curry I've eaten at a restaurant. Delicate, flaky chunks of fish, delicate seasoning, burst-in-the-mouth mustard seeds and nicely contrasting pieces of mango. Luckily I also got to sample the tikka masala too. And very good it was too.
I'll definitely be going back to visit the Yellow Dog that's for sure.