Well Done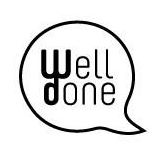 https://www.facebook.com/pages/Well-Done/593169484049058
I passed this restaurant just as the finishing touches were being put to it. The sign outside pronounced "B.B.Q. and Whisky", which sounds like an ideal name for a blues song. A few days later I noticed that the restaurant had opened and I decide to head there at the first opportunity.
I asked the moderately attractive waitress for the "Zestaw Dnia", which baffled her somewhat. Until she realised that the "Zestaw Dnia" was what I wanted. Credit cards weren't accepted alas, but I wasn't surprised that was the case in such a newly-opened establishment. To drink I ordered a Somersby apple-flavoured beer, which boosted my bill somewhat, costing 9 zloty, whereas the rest of my meal was a mere 17 zloty. I vowed that next time I would take my drink.
I decided to sit outside in the "Ogródek", ie outside by a table on the pavement. I was in the shade and it was a little bit chilly, but the alcohol soon warmed my spirits. For no good reason it was served with a bowl of popcorn. The soup course arrived, zuccini soup, nice and thick, with some croutons. Sitting outside I noticed that the bar was in fact called "Well Done", which is only a moderately better name than the BBQ/Whisky combo.
With the delicious soup safely tucked away in my stomach the main course arrived. Fajitas (basically fried onions with chicken), rice and a taco. Taco eating can be a messy business, but I managed to eat it without soiling myself. The main course was pretty good (and pretty cheap too). Fully refuelled I was able to continue my trip to the tourist epicentre of Kraków, namely the Rynek.