Wanilia i Pieprz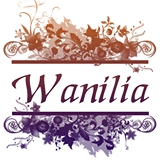 https://www.facebook.com/wanilia.lunch.bar
Market forces are in action on Gołebia Street not far from Kraków's main square. Gospoda KoKo is a regular haunt of mine (see the review here) and one evening on the way there I noticed just next door Wanilia i Pieprz (Vanilla and Pepper). The menu board outside was advertising their lunchtime special for only 14 zloty. This just happens to the same price as at KoKo right next door. No mere coincidence, I'm sure.
As one of my new year's resolution is to "try new things" I decided to give the place a try. Strictly speaking this particular resolution was intended for stuff like bungee and base jumping, but trying new restaurants is more my style.
The interior of Wanilia is completely different to that of its neighbour. The interior is rather pleasant (as my dinner companion would concur). It was relatively empty (and a little bit chilly) on the Tuesday afternoon when we visited. The menus are classier too (with a few spelling mistakes for our entertainment). There is waitress service too. I didn't even bother to speak Polish to her. Fortunately we were well within the 6pm "lunch" deadline. As a greedy bastard (and keen to get good value for money) I opted for a soup starter. The cream of broccoli soup was indeed very tasty. Our main courses soon arrived (we both opted for spaghetti bolognese). A rather generous portion, with a rich sauce and plenty of meat (probably pork mince rather than beef mince, but this is the norm in Poland). All this was washed down with a couple of glasses of Green Mill cider. This cider isn't my favourite, but it's pleasant enough.
After a rather pleasant meal and taking some photos it was time to settle up. The bill came to 77 zloty. Funnily enough only one third of this amount was for food. So, KoKo wins on speed of service and low drinks prices. Wanilia's food couldn't be faulted (the options on the menu were a little limited, but no worse than at KoKo). So, you pay your money and take your choice.