RotiRoti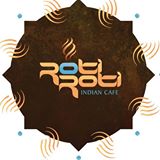 https://www.facebook.com/RotiRoti.Krakow
Apart from feeding my fat face, there were other reasons for visiting what claims to be an authentic Indian restaurant in Krakow. First objective was to catch up with a friend. I wouldn't describe her as an old friend as she is neither old, nor have I known her for a long time. I would describe her as an English rose though, fair of complexion and mild of manners. Ok, so she's Polish, but she could easily pass for the stereotypical English rose. Anyway, this was also an opportunity to try out my newly-purchased camera on one of my more photogenic friends. Her friend (and flatmate) joined us (she too was happy to pose for this poor excuse for a photographer).
The restaurant's interior is nice enough. White walls and a smattering of Bollywood posters around the place. The food was nice enough. I ordered some beef with curry or something and my dining companions ordered some green gloop with rice. To drink beer for me (because that's how I roll) and the girls brought their own water. Anyway it was tasty gloop and I would go back there
A rather pleasant couple of hours was spent there (the food didn't take two hours to arrive fortunately, but we were quite happily chatting and snapping away). I got a few nice photos, I even managed to get some of them in focus, too.
Return to RotiRoti
I was slightly saddened to hear that RotiRoti had closed a few months back. Not because I had a particular fondness for this eatery, but because I had written a review of the place. With the place closed that article had only garnered a readership of two (me and one of the people I had visited the place with).
Fortunately for me (and my previously unpublished review) RotiRoti had given in to public demand and decided to reopen, in a manner akin to a curried phoenix rising from the ashes. My dinner companion was once again the lovely, delightful, delectable Dee. A trade had been arranged. In the absence of any defectors or hostages a modest-sized pile of my unwanted books was to be exchanged for the pleasure of her company.
We arranged to meet in the restaurant. I arrived first. I knew that RotiRoti had undergone a makeover. I immediately felt at home there, partly because the restaurant's walls are painted in the same shade of orange as the stairways and underground parking area at home. A few traces of the old RotiRoti had survived, including the square white tables. Lighting in the restaurant is fairly subtle, which makes for a nice atmosphere, but a bit of a challenge for my camera phone. I was part-wishing that I'd brought my decent camera, but a karaoke event was scheduled for later in the evening, so I didn't want to be carrying an expensive bit of kit around with me.
I found myself a nice quiet spot and waited for my invited guest to arrive. I had a beer and a smartphone to keep me company. I'd arrived a bit early and my guest was (a little bit) late. Candles were starting to spontaneously extinguish and diners were filling up the previously-empty room. I pondered the possible causes of her lateness. Traffic was ruled out as she lives minutes away from the restaurant. A giant queue for the bathroom was a possibility of course. Anyway, I didn't have to wait too long. The wait was worth it, of course. The cause of the delay? Choosing a coat.
After handing over my several-kilogram load of books to Dee we ordered our food; Chicken cooked in butter, in a creamy-tomato sauce. Not exactly a diet-conscious option, but there were two hungry Taureans to feed. As I previously mentioned the lighting in RotiRoti is subtle. Even I probably looked good in this lighting, so you can only imagine how good my young photogenic friend looked under such conditions. I was kicking myself (a feat which is hard to achieve when you're sitting down) for not bringing my proper camera.
The food probably took around half an hour to arrive, which isn't very long unless you're very hungry. Fortunately, I had taken the precaution of popping into MacDonald's a couple of hours earlier and eating a "pre-dinner". Dee, however, had only consumed breakfast eleven hours earlier. Our meals arrived and, no surprise here, it was worth the wait. My only criticism of this particular dish was that the chicken was a little tough and in slightly too large pieces for my liking (bearing in mind that I was eating it out of a bowl using only a spoon). We had both opted for the larger-portion versions of the meal and I struggled to finish mine despite the overwhelming tastiness of the food.
The service was excellent and, at the time, I felt slightly mean about only giving a ten zloty tip. The total for the meal (including 1.3 litres of beer) came to 67 zloty. So, my tip wasn't actually that bad (just shy of 15%). As a new Krakowian I should try to live up to their reputation of being, well, let's say "careful with their money." This restaurant is neither cheap nor expensive in my opinion. Lunch time is better value with various deals (in the evening rice etc is charged as an extra), but then you'll miss out on the wonderful night-time ambiance of the place.
Alas, it was time to leave. We were both replete and Dee had filled me in on the latest news. Gossip (and confessions) would have taken a lot more time and alcohol than we had time for. I'll return to RotiRoti again soon, but armed with a proper camera. I'll allow more time too. And make sure that I'm really, really hungry so that I can enjoy more of the delights on offer. Ah, hindsight... what a wonderful thing you are.
Next stop that evening was Carpe Diem, but that's a story for another day.

Comment made by
Dagu
on 15/9/2013 at 4:54:PM
It was a great afternoon:) Such a shame they're closing... (Why, an English rose! How sweet, thanks!)
Comment made by
tonylogon
on 30/1/2014 at 2:28:PM
Very happy with the new Owners, for me it looks like they improved the place, with not only the food but also the decor,,
Comment made by
Colin
on 30/1/2014 at 2:37:PM
Yes, Tony. Agreed, it's a much more warm and friendly-looking place now.