Rondo Cafe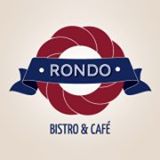 https://www.facebook.com/RondoCafe
I had often passed the Rondo Cafe/Bistro and barely given it a second glance. All that changed recently.The establishment had a bit of a makeover and new signs had appeared, proudly announcing Pizza, Pasty (no, not the Cornish pastry-encrusted snack originally designed for miners). As well as these traditional Polish (i.e. Italian) staples there was a mysterious third option, "Paje." I wondered long and hard as to what it could possibly be. Eventually curiosity got the better of me and I took a closer look at their signage. I was pleasantly to read that paja (the singular form of paje) is in fact good old English-style pie. Apart from cider, this is the one home-comfort I've really missed. The Polish just don't do pastry. The closest I had gotten was a lidded Georgian dish, but even then it wasn't real pastry. I vowed to return soon. A sandwich-board also stated "We speak English." I was keen to put this and their pies to the test.
It was one of those evenings when I couldn't be bothered to cook, yet at the same time I couldn't be bothered to go out to eat. With very little food in the fridge I had no option but to head to the nearest supermarket. On the way to Galleria Kazimierz I decided on a last-minute change of plan. Pie time was upon me. I approached the bar and ordered, first making sure that I could pay by credit card. One last thing before ordering was to make sure I wasn't just going to get a pie on a plate (although the idea is tempting). Fortunately pies are served with a side salad. The barman/waiter did indeed speak good English and even offered to translate the pie descriptions for me. The choice was fairly easy, chicken and leek. To drink I opted for a large beer (forgetting to stay in character I ordered this in Polish).
I found a seat in the front part of the restaurant and, armed with a copy of Newseek and my phone, what I hoped would be a short wait for my meal began. A few minutes later all the lights went out and the music stopped. A power cut. Fortunately it didn't last long and soon after I was presented with a handsome-looking pie-half, the salad taking up the other half of the plate. The pie was fantastic. From my cursory look at the menu I was expecting just a plain chicken and leek pie. It turned out to have ham and a béchamel sauce too. So, top marks for the pie. Service was excellent too. The power cut can be easily forgiven.
After the meal, I revealed my secret identity to the waiter (Mariusz), who called his brother (the chef) out from the kitchen. I expressed my gratitude for them bringing pies to Poland. As I suspected the chef (Tomasz) had spent some time in England (working in places such as The Wolseley Hotel). He had tried steak and kidney pie in England and, now back in Poland, had seen a pie-shaped gap in the market. These guys are true Pie-oneers (not my joke, but Tomasz's). Paraphrasing Tomasz's word "First there was pizza, kebabs, then the gourmet-burger restaurant fashion. We are hoping that pies will be the next big thing".
After taking a few more photos, I said my farewells and left. I'm not sure if there are any other places in Krakow that sell pies. And even if there are, the pies (priced at 15zl including side salad) at Rondo are top-notch. I'll be back to try the pasta and pizza too (also priced at 15zl). Beer (Tyskie) came out at 6zl. With prices like this I may completely give up cooking altogether.
Comment made by
Bjorn
on 8/2/2014 at 9:09:PM
When entering the bar we wanted a pizza. This was not possible because they was only making pie this day. Then we ask about the size of pie. Answer was 23 cm divided in half and rest of the plate was a big salad. Then we got the half of a 23cm pai served on a 20 cm plate and it was not filling all(or all of half) of the plate. The taste was good, the size was not. Theen we had to go to some other place to get some more food. Not a place to get back to!