Pod Wawelem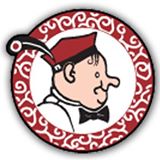 https://www.facebook.com/PodWawelem
My shirts have been getting a little tight of late. As was usual for a Sunday night I had resolved to do something about it. With the weather still a little on the chilly side, I favoured dieting over exercise. Unfortunately the diet last even a whole day as a friend of mine had offered to treat me to dinner. It turned out to be the complete antithesis of a diet meal and by the end of the evening was only a "waffer thin mint" away from ending up like Mr Creosote in the Monty Python sketch.
Pod Wawelem is quite a large restaurant (possibly seating as many as 200 people). It has a very good reputation too, which ensures that the place is busy. We went there early in the evening (5pm) and the place was almost full already. And this was on a Monday night.
The place is bright and clean, with white tiles on the wall. We were seated out in the conservatory area. By the look of the place and the way the waiter introduced himself the restaurant TGi Friday sprang to mind. Pod Wawelem has different specials according to the day of the week. As this was Monday beers were on special offer with one litre tankards at an amazing price of 7.50 zloty. So our drinks choices were fairly easy. "Two large beers" with the emphasis on large. Our beers soon arrived. This was accompanied by some complimentary gherkins and sauerkraut. Before long I was making jokes and taking photos of my dinner companion and her fantastic jugs.
For dinner I chose another of the Monday specials. Giant schabowy and fries. After my companion had taken great pains as to how she wanted her steak, it turned out that was no steak and she had to settle for "zrazy", which are sort of faggot-like sausages, served with groats. Neither of us are fans of groats, but these turned out to the tastiest groats I'd ever had (which isn't really saying much as they are usually vile).
The enormous dinner (accompanied by the giant beer) didn't defeat me. Despite the fact I wasn't wearing elasticated trousers I managed to leave only some fries and the sauerkraut. Everything about this restaurant is enormous. I even espied a waitress with a pepper mill which was the size of table leg. It wasn't until the end of the meal that a few small things arrived; namely the bill and a couple of cherry spirit shots.
Next time (and there will be a next time as the food and service is excellent) I eat at Pod Wawelem I'll be properly prepared and if I'm not that hungry I'll order from the children's menu just to make sure I have room for the giant beers.