Mięta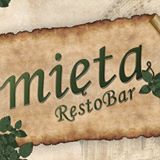 https://www.facebook.com/RestobarMieta
Another day, another restobar
I had planned to go to Mniam for a quick spaghetti (around 600 grams for around 10 zloty served within about a minute of ordering it). However, it was a Saturday evening and (as I am now aware), this particular establishment closes at 6pm on Saturdays.
My search for sustenance continued, I considered going to the Yellow Dog or whatever it's called, but I didn't have any inclination for having oriental food. So, slightly further along the street I found Mięta. This restaurant has a really nice garden area. It was already dark outside and a little bit cold, but I decided to sit outside anyway.
The waitress managed to confuse me slightly, I probably wasn't paying enough attention. She said something (in Polish) about "in English" or "in Polish". I thought she was talking about which language I would be ordering in, but it turned out that she was talking about which language I wanted the menu in. This is something I haven't experience for a long time. It's rare for me to be offered a menu in English. Anyway, I ended up with two menus. The English one went unread. Perhaps I should have perused it, looking for amusing mistakes. However, it was almost dark and the light from the candle didn't lend itself to extensive reading - or photography for that matter.
My pizza arrived very quickly and I sipped at my ice cold 200ml Coke Zero to ensure I had something to drink right up until the last bite of my pizza. I had ordered a "Pizza Speciali," with marinated chicken, rocket and shavings of parmesan. Alas, far from being special, the pizza had a certain degree of identity crisis, it was some strange hybrid between a pizza and a salad. The chicken and salad was slightly cold and seemed as if it had been added as something of an afterthought. It was a thing crust pizza, so maybe it was cooked in such a rapid time that the "dodatki" didn't have time to warm up properly. They weren't exactly generous with the cheese either. I added a dash of balsamic vinegar and was able to enjoy my meal.
The meal was tasty enough though and I soon all that remained of the pizza salad was a pile of slightly-burnt crusts with teeth marks. The waitress finally arrived and I was able to settle the bill and leave before my core body temperature had reached a critically low level.
I will probably return to this charming restaurant when summer returns.