Ed Red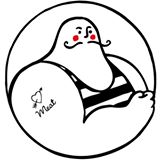 https://www.facebook.com/edred
I enjoy a nice bit of steak occasionally. When one of my favourite restaurants (Terraces in Brighton) shut down that occasionally turned into seldom. There are quite a few steak restaurants in Kraków. The Argentinean restaurant Pimento has a reputation for good steaks. Alas, it also has a reputation for high prices. So, when Ed Red appeared on Sławkowska Street (metres from the Main Square) I was keen to give it a try.
The first thing you see when you walk through the restaurant door is a full-height, glass-fronted refrigerator proudly displaying Ed Red's meaty offerings. The interior is very nice indeed, with various small rooms, wooden furniture and a fair amount of leather. My dinner companion and I chose to sit at a very small table by the window to enjoy the fresh air and watch the world passing by on the busy street. The table was a little too cramped to be honest.
Choose of food wasn't too difficult for me. I've always been a lover of rib-eye steak, so I ordered that along with new potatoes, mushroom sauce and grilled vegetables. For the lady, steak bavette and chips. Our drinks soon arrived and for me a rather heavy duty steak knife. My rib-eye looked juicy and tasty. We didn't really know what steak bavette was until it arrived. As it turns out it's steak, but already cut up for you. No need for steak knives here, you could probably eat it with chopsticks if the mood took you.
Prices here are pretty reasonable (especially compared to Pimento), service is excellent and the steaks are good. My dessert was simply ok, rather than mind-blowing. A white chocolate tart with the consistency of a cheesecake. If when I ever go back there (so many restaurants and too little time) and the dessert is better I'll upgrade their rating to a 5 meaty stars.