Bałkanica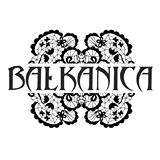 https://www.facebook.com/balcanicarest
My friend has a penchant for all things Balkan, so with that in mind we headed to Bałkanica restaurant which I'd recently discovered in Ul. Czysta. I'd worked up quite a hunger by cycling to Nowa Huta. And walking from my place to the designated meeting point (Lenin's Head, on Adolf Hitler Platz, better know as the Eros statue on The Rynek) had put a further edge on my appetite.
So, with high expectations we headed off together towards Czysta. The street is named Czysta, which translates as 'clean' or 'pure', but it could equally be named after one of Poland's better known vodka brands.
The restaurant is pleasantly decorated, with blue tablecloths matching my dinner companion's dress. Choosing a dish didn't take too long as the food section of the menu (which is presented on a clipboard) runs to a mere one page. This restaurant is rated very highly by its Facebook fans, so presumably they serve up good, authentic Balkan food. We were about to find out.
I chose the Serbian style oven-baked rice with beef and my companion opted for what turned out to be sausage (made from pork and beef) and chips, served with a light cucumbery type sauce . My meal was tasty enough, but it didn't really turn me on. Maybe I just wasn't hungry enough. It was similar to the Jambalaya that I often make (which is a great hit among friends), but which carrot instead of peppers and beef instead of peppers. And the method of cooking (baked instead of boiled), but apart from that it was definitely of the same ilk.
After eating my meal (and a spare sausage) and downing a pint of beer I was no longer hungry. The taste of garlic remained in my mouth for some time after the, but at least I had been fed and 'watered'.
So, would I return to this restaurant? Possibly. The restaurant interior is nice. The service was attentive and the prices not unreasonable. I might be tempted to try their stuffed vine leaves if I were to return there.