Restauracja Destino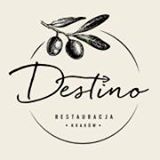 https://www.facebook.com/restauracjadestino
It sounds almost too good to be true; a restaurant offering fine dining in the city centre with impeccable reviews and reasonable prices. Sound almost too good to be true doesn't it?
A Date with Destino
I, and a group of fellow diners from the local Yelp reviewing community, set out to find out the truth for ourselves.
The interior decoration and layout of the restaurant is very pleasant. (see photos). When I arrived I wasn't feeling too great and was wondering if I should have stayed at home. Three courses later I had completely forgotten about my upset stomach...
We were quite a large group (with some late arrivals too) and it took a while for our food to arrive. Luckily in the meantime there were some very tasty rolls served while we were waiting. Delicious when dipped in olive oil and balsamic vinegar. To drink I chose a glass of Pinot Grigio (not the cheapest white wine on the menu, but a very reasonable 18 zloty for a 150ml glass).
Next was the prawn starter. Three beautiful prawns in a golden beer batter, served with a salad and two "dips". It had a been a while since I last ate prawns and now I remember what I've been missing out on recently.
Half way through the meal I changed table to join the late arrivals at the English-speaking table (they turned out to be medical students, but, hey, nobody's perfect.)
The main course was ossobuco, this is a Milanese veal dish, with the meat slow cooked on the bone in a rich vegetable/tomato sauce. Another glass of Pinot down the hatch. The ossobuco was rich and the meat delightfully soft. I can honestly say it was the best ossobuco I've ever eaten (well, to be honest, it was the only one I've ever had).
With the rich flavours still in my mouth I needed something sweet to finish. I chose the meringue (served with cream, berries and a vanilla sauce). A revelation. I don't normally use the phrase "To die for" (out of risk of sounding like a raving homosexual). But this dessert was indeed "To die for." Some die for their country, some die for their principles, but for me it's desserts.
So, by the end of the evening I'd spent 110 zloty (plus a generous tip) and was completely satisfied with my meal. Would I come back? Most definitely. Some of my fellow diners weren't quite so wowed, possible because of the boring dishes they had chosen. Reserving a table is definitely a good idea as this place is getting popular.