Augusta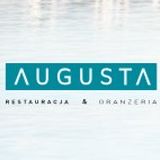 https://www.facebook.com/RestauracjaAugusta
After several hours of walking round Podgorze taking photos and a couple of hours sitting on my arse drinking beer I was tired and ready for something to eat. One of my drinking companions had suggested that Augusta was one of the better barges to eat on, so that's where I went. With that recommendation in mind and the fact that it was only a few minutes walk away over the river sealed the deal.
Make no mistake about it, "This is a fancy restaurant" (to quote Freddy Got Fingered). Not having a reservation I was seated at the end of the barge (I'm not entirely sure if it was the stern or the bow). I was actually sitting on a sofa next to the table, not the ideal arrangement as the table was a little high, but not enough to complain about. I was in the mood for eating, not complaining.
First course was soup; cream of leek with an "island" of toast bedecked with a slice of warmed camembert. The soup was delicious and so it should be for 15 zloty. My main course was a roast loin of pork in a creamy, mushroomy sauce. Vegetables weren't including in the price of the meal, so that bumped up the price a little. The potatoes weren't particularly tasty and at 1 zloty a pop, I wasn't impressed that one of them was undercooked and less than genetically perfect. All this was washed down with a glass of rather nice rosé (this was the usual stingy 100ml served in accordance with Polish tradition).
The final bill was more than I'm used to paying, but the food was very good (apart from that rogue potato), the setting is excellent and service was spot on too, so I certainly can't complain. So, I left the restaurant happy and with enough energy to continue my journey.